Clear Your Clutter. Reclaim Your Life!
Are you overwhelmed by clutter?
Do you feel stuck—and ready for a change?
Would you like to feel energized and excited?
Do you know something needs to change but are not sure what?
As a lifestyle and highly-attuned spiritual coach, I work with people whose dearest desire is to move forward but who aren't sure where to start. Clutter is a perfect metaphor for how people get stuck. And CLEARING clutter allows us to figure out HOW to move forward. We'll work together to examine all areas so you can declutter your life.
If you're ready to take that first step, Julie can support you with clutter control coaching. Julie does declutter your life coaching in Wheeling, West Virginia as well as virtual life coaching and clutter control coaching.
Organization flows from clarity
Many people view clutter as just physical stuff, but it goes much deeper than that. What I've realized as a professional organizer is that it is more important to first clear your clutter before trying to get organized.
Clutter is anything that prevents you from creating the life you choose, deserve, and desire.
As a lifestyle & life organizer coach and clutter control coach, I work with a wide variety of people's needs and goals:
perhaps you would like to gain more confidence,
maybe you have spiritual clutter and would like to discover your passion,
or you are just tired and know something in your life needs to change and not sure what that is.
If you don't get to the root of what's going on with your clutter, it's challenging to clear it and become unstuck. But when you DO become unstuck, your Reawaken Your Brilliance. And that's what we can accomplish together!
I look forward to being your partner as YOU create transformation through clearing and organization. Let's declutter your life, to create the life you choose, desire, and deserve.
Lifestyle coaching includes:
75-minute session
Homework assignments
Limited e-mail support between sessions
One appointment

—

or as many as you desire.
1 Coaching Session: $155 (4-installment plan available, $38.75/mo)
Money-Saving Packages also available:
4 Monthly Sessions: $145/mo (save $40)
10 Monthly Sessions: $140/mo (save $150)
"Julie, when I pondered how to put my feelings into words about this video, it came to me that this is a Classic. I don't think anything important or beneficial was left out. It's of a wholeness, and one feels your human experience in dealing with your own doubts and that therefore, "you speak our language" and do it with compassion and love and the firmness of a leader saying, "Come on, troops, you can do this!" I am going to be watching this classic over and over and sharing it with loved ones and kindred spirits. Thank you and bless you. I feel great affection for you because you have the courage to be self-revealing in order to help others. I think you're using your gifts–the things you came here to give your world–very well. ♡♡♡"

~ Sue Leigh, YouTube comment on "Destroying Your Doubt"
I believe you have all the answers within and it's simply my job to support you in finding those answers, guiding you with action steps to create the life you desire.
This work can be challenging and also very rewarding. It's important to the process that you be ready and willing to do the work. Awareness is half the battle; taking action is the other half.
Together we'll examine clutter in all of its forms: physical, mental, emotional, spiritual and energetic. We'll also examine clutter in your health, relationships, finances and more. We'll also examine clutter in your health, relationships, finances, and more. I bring a mindfulness perspective into the coaching process, so you may be given homework such as "Say no to one person this week" or explore different mindfulness practices. It's very custom to you.
Don't let fear, overwhelm, or embarrassment hold you back another day. Call me to set up a free 15-minute phone consultation to learn how I can support you! Phone, FaceTime, Skype, or Zoom.
Ready to Book? Schedule your free 15-minute consultation now.
"My story with Julie Coraccio began 4 years ago, when I became a fan of her podcast and social media profiles. Her message of clearing away clutter resonated with me. After starting the process of removing my own clutter of junk, bad friendships, and negative thoughts, it became clear how much these things weighed me down energetically. Before long, I felt empowered and started to see improvements in my marriage and life in general. Recently, I learned that Julie offers brainstorming sessions to clients who are feeling stuck in various areas of their life. I contacted her to see if she'd be willing to help me clear stagnant ideas and self-doubt in my writing craft. She was more than happy to set up a session with me for the next week. During our session, Julie shared a game plan of daily exercises to help inspire my writing. One of those assignments was to create a character vision board to keep near my bed. As a crafty hands-on kind of person, I was excited to get started on this task. Julie's pre-screening sheet and genuine interest in me as a client allowed her to recognize the kinds of tools I needed to see positive results. Her supportive feedback and guidance throughout the session helped me to move past the blocks I created with my own self-doubt. My love of writing has been restored and I now have a better appreciation of my own gifts and talents. No matter how complex or deep rooted the issue, Julie's skills and experience are beneficial to anyone who's ready to make changes in their life. Julie values her clients and teaches them to embrace their own uniqueness. I see her as a mentor who genuinely cares for people and wants them to see them thrive. Thanks to Julie, I've been able to tackle mountains of clutter in all the areas of my life. For that, I'll always be grateful."

~ Mary J. Tejeda, Writer
ABOUT JULIE CORACCIO, Certified Life Coach
Julie is a Certified Life Coach from Lisa Transcendence Brown and received a certification in Expanded Consciousness and Inner to Outer Reality Transformation. For four years, she worked monthly with a transformational coach as well as taking two monthly classes to clear her own clutter. She continues to work with her first transformational teacher—the more clutter-free she is, the better she is able to serve her clients.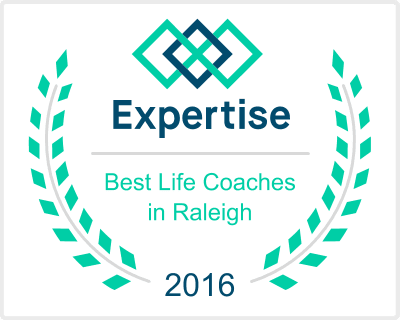 COACHING TIP:
Make a list of all the things you have accomplished, both personally and professionally, as well as fears you have overcome and all your awesome characteristics. Ask your friends, family and clients to share what they love about you and add that to the list. When in doubt, refer to your list for a boost to get you motivated and believing in yourself.